Pony-Express: Pony - (Native American) horse, Express - (Latin) hurried, fast. With reference to the postal service this results in a particularly fast means of transporting information via horses.
The idea for this was not actually born in those seemingly glorious days of the conquest of America. In fact, centuries earlier, around 1200 AD, mail was transported in this way in China. ½ million people lived west of the Rocky Mountains in the mid-19th century.
From 1848 the Pacific Mali Steamship Company transported mail on a monthly basis (by ship to Panama, stagecoach through Panama and finally by ship to California) and George Chorpenning used riders during the Gold Rush as early as 1851 for delivering mail in California. The first courier service commuted between Sacramento and Salt Lake City. A letter would travel 30 days and another 30 days were needed to take mail to Independence, Kansas for example. Nonetheless, two months delivery time was much faster than five months transportation with wagon trails.
In 1856 a law on cross country mail transports was finally passed. It regulated the transport of mail by coaches which were furthermore allowed to carry 6 passengers. The contract was given to the Butterfield Overland Mail Company which united with the Adams Express Company, American Express Company, National Express Company and Wells, Fargo & Company.
In order to serve all partners equally coaches followed a route from St. Louis through Arkansas, Oklahoma, Texas, New Mexico, and Arizona to San Francisco, covering 2795 miles in 21 days. There was another main route which was some miles shorter but more difficult to manage on account of climatic conditions.
In 1859 the Leavenworth & Pike's Peak Express Compan, by then taken over by William Russel and John S. Jonas, mastered the distance to Denver already in 19 days.
Once William Russell had purchased the mail contract from St. Joseph to Salt Lake City the 1.966 mile route was to be completed in 8 to 10 days. Hundreds of horses were bought and 120 riders employed.
Since the necessary investment costs for the Leavenworth & Pike's Peak Express Company exceeded the expected cost of 100.000 dollars the company was taken over by Russell, Majars & Waddell. The new business was given the name Central Overland California & Pike´s Peak Express Company.
In Mai 1860 Russell succeeded in taking over the mail contract for the route from Sacramento to Salt Lake City from George Chorpenning. By doing so, he finally achieved sole transportation rights for mail between St. Joseph, Missouri und Sacramento, California.
The Pony Express was born.
Billy Richardson set off as the first Pony Express rider in St Joseph, Missouri on 3rd April 1860. After only 9 days the mail arrived in Placerville, California and reached San Francisco the following night.
The original Pony Express route from St. Joseph to San Francisco covered 1966 miles (3146 km). Riders departed once a week in both directions and arrived after 8-10 days. 80 youthful riders, 500 of the best horses and 200 assistants at the stations were at the company's disposal. A sender had to pay 5$ per letter (for a person to travel on a coach cost 150 $, later 100 $), riders were paid 25 $ per week. Horses were exchanged at every station, riders changed every 8-10 hours, which meant a ride of 220 miles in Eastern regions and 160 miles in Western regions. A horse would have to carry an average weight of, (ca. 72 kg), comprising of 20 pounds of mail, 25 pounds of equipment and the rider's weight (120lbs). The best rider needed a mere 15 seconds to move himself and the mochila (Spanish for "pouch") onto a fresh horse.
On average relay stations were placed at intervals of 10 miles (16 km) along the route. Stations ranged from solid multi-storey houses with good accomodation to holes in the ground covered with planks of wood. However, basic provisions were to be found in all stations, these included: ham, bacon, treacle, dried fruit, sweet corn flour, tea, coffee, several tools and horse feed. Stations were supplied with goods by coaches that were also used to carry passengers.
Pony Express riders were usually dressed in hunting shirts made from deer skin, trousers made from a strong fabric, boots or shoes and a cap or felt hat. Riders rarely carried weapons, expect for a bowie knife, revolver or rifle, which was hung over the shoulder.
Pony Express riders barely had contact with each other. They had only one task: to bring mail to its destination via the quickest route and regardless of circumstances. It was not only the extremely difficult 700 mile route between the Rocky Mountains and the west coast that made their task challenging but also the disputes with native Americans and criminal whites. This often prevented riders from delivering their charge without problems; thus it could occur that a rider would find his substitute beaten to death, the station plundered and horses stolen, and some times those riders themselves would not reach their destination alive.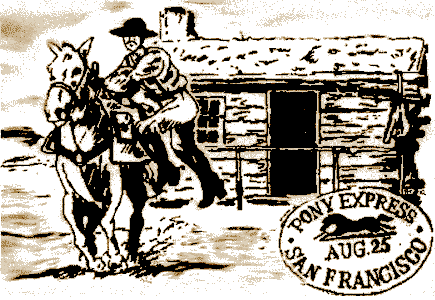 In 1860 8000 Paiutes warriors from Utah entered into a war with 'the white man'. Possibly the most note-worthy rider was 'Pony' Bob Haslem who covered 380 miles in one route due to lack of substitute riders and still managed to deliver on time. Postal traffic was stopped from Mai until June after some postal riders were killed during the dispute.
One of the best known riders was William F. Cody who reached fame some what later than Buffalo Bill.
On the 2nd March 1861 congress agreed the new postal law for the connection with California and entrusted the postal service between Missouri and Placerville, California to the Overland Mail Company. The route was to be served daily for six days a week. In addition, the Pony Express was to be continued twice weekly until completion of the transcontinental telegraph line which was already under construction.
On the 16th March 1861 the Overland Mail Company and the Central Overlend California & Pike's Peak Express Company closed a contract in which they split the freight and passenger service between them. Because the regular Pony Express now ended in Placerville, Wells, Fargo & Company began their own Pony Express service between San Francisco and Placerville from 1st July 1861.
On the 24th October 1861 the transcontinental telegraph line was put into operation and the last mail transported in this manner arrived at its destination.
At the beginning of the civil war the Pony Express company was no longer able to exist due to financial circumstances and completion of the telegraph connection. The society hoped for support from the government, this however failed to materialise. The Pony Express turned into a finacial fiasco. 500 $ were allocated for each tour, in reality an amount 15 times more than that was required.
The Pony Express had become history.
The myth remained – the myth of young, courageous riders, who reflected the nature of the American movement westwards – nothing could stop them! This myth still retains its power to this day.
Once a year in the summer since 1976 a Pony Express ride along the historic route takes place in the USA.
The idea to carry out a Pony Express ride in the ČSSR (former Czechoslovakia) was born at a country event in 1983 as some country fans were sitting together over beers. Among this group was Jindrich Bilek who took the organisation in hand and made it possible to conduct the first ever Pony Express ride in 1985. It has grown into a big event since then.
In 1989 the first Pony Express ride led from Dresden to Schmilka in the GDR. In subsequent years the Pony Express gained more and more followers and was further developed. Since then the European Pony Express ride is executed in August every year.
In 2011 about 260 riders from the Netherlands, Germany, Poland, Slovakia and the Czech Republic will take part in a 2,600 km ride for the European Pony Express and will carry mail entrusted to them through woods, across fields and rivers, in sunshine, fog and rain, by day and night, in order to reach their destination.